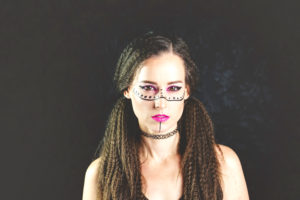 How long have you been a part of the league?
7 years. 
What are your expectations for the upcoming season of derby?
I really want to expand on my jamming skills.
So far, what has been your scariest or most intimidating moment in your derby career?
Lowdown Throwdown 2016. Allstars vs River City. Last jam, and we were tied. I was a blocker in that jam and that was the first time I felt like my whole team trusted me enough for me to be out there in a heavily weighted moment in the game. So naturally, I was terrified. We ended up losing by 3 points but we played so well the whole time it didnt matter.
Do you have a favorite derby team to cheer for (other than LCHR)?
Richland County Regulators. Carolina Wreckingballs, Magic City Misfits, Nidaros, New Skids on the Block, Denver Roller Girls, Soul CIty SIrens, Rainy City, Steel City, Jacksonvile. Honestly, the list could go on.